The Gwyn Plas Trail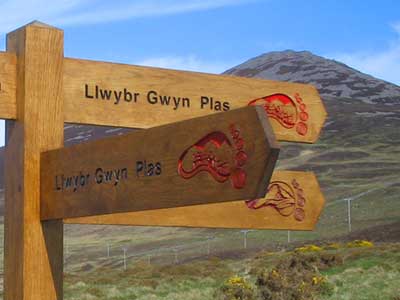 In September 2006, Gwyn Elis - or Gwyn 'Plas' to all who knew him - passed away suddenly and much too soon. There was a strong feeling in the village that Gwyn's contribution to the area should be celebrated - he was one of the founders of Tafarn y Fic, an early trustee of Nant Gwrtheyrn, one of the organisers of Gŵyl y Nant, a leader of walks, and he was also involved with the Yr Eifl history and heritage society.
Almost £6,000 was raised by a special fund, through donations and an auction of promises. A heritage scheme was created to draw up a walk entitled the 'Gwyn Plas Trail' around the village and funding was gained from the Aggregates Levy Sustainability Fund, and the Sustainable Development Fund, Gwynedd Council.
The trail was officially opened over Easter in April 2009 with a special festival held to celebrate the occasion. The trail is neatly marked out using oak signs made by the Signs Workshop. The 'information stones' note local tales here and there with plaques of granite from Yr Eifl having been carved by the Cerrig company, Pwllheli and there is a special look-out on the flanks of the Eifl noting the names pertaining to the view that is visible from this trail, extending from Holyhead to Pembrokeshire.
The trail links up with other trails:
The Llŷn Coastal Path, Carnguwch Church Trail, Nant Gwrtheyrn Trail, and the Eifl and Tre'r Ceiri Trails. The logos for all the trails were designed by Sioned Wyn Jones and they are clearly denoted by oak signs.
Art of the Quarrymen
An extension of the Gwyn Plas Trail plan was the erection of a memorial to the quarrymen of the granite quarries of Chwarel Cae'r Nant, Porth y Nant and Chwarel Carreg y Llam near the car park at the top of the Nant. The idea of the three stones was submitted by Arfon Hughes, Porth Tocyn; the plinth of old Trefor sets was made by Dylan and Iwan Foel; a 'cywydd' (strict metre poem) was composed by Myrddin ap Dafydd and the artwork was created by Rolant George of Tanygrisiau.
The artwork stands on the quarrymen's path from the village of Llithfaen to the quarries. At the top of the Nant, on windy days in the winter, the quarrymen had to crawl on all fours along part of the path, as the wind was so strong.
More Information